ON BLACK FRIDAY, CONSUMERS SHOWED HOW SAVVY THEY ARE.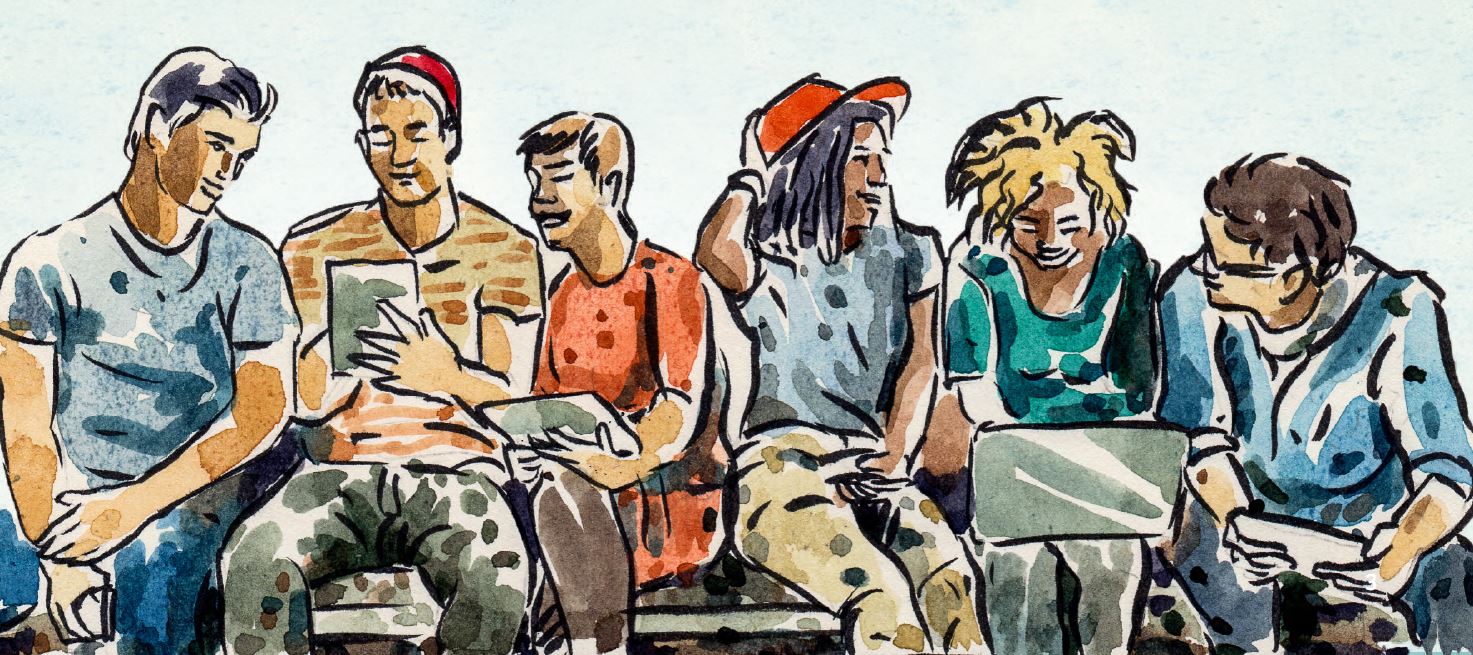 While sales this year set a new record as they totaled $6.22 billion according to Adobe Analytics, which compiled data from 80 of the United States' biggest internet retailers including Amazon and Walmart, one contributing factor was the fact that people took advantage of sales to purchase "big ticket" items such as appliances, furniture and mobile/smartphones—whose sales have dropped this year—Lisa Marie Segarra explained in Fortune magazine.
Moreover, she said, "[f]or the first time, prices were as low on Thanksgiving Day as they were on Black Friday…possibly eating into Black Friday sales." (1) Online spending on Thanksgiving Day totaled $3.7 billion in the United States.
In other words, consumers might have taken advantage of sales to get costly items they needed. And on Cyber Monday, they kept on shopping, leading to record-breaking online sales of $7.9 billion Adobe Analytics reported.
SHOPPERS LOOK FOR GIFTS ALL DECEMBER LONG
That people don't necessarily shop for gifts on Black Friday and Cyber Monday was demonstrated in a recent survey conducted by Blis, which specializes in location and in-depth behavioral data technology.
"Out of the 2,000 people surveyed for our whitepaper, only 9.2 percent of respondents indicated they actually buy holiday gifts on Cyber Monday," said Jamie Crespi, Blis' marketing vice president for the Americas. In fact, she added "[o]ne in every three Americans buy holiday gifts throughout the year, especially if something someone wants is on sale." (2)
While 19.1 percent of the people indicated that they do most of their holiday shopping on Cyber Monday, 26.9 percent said they do it during the week prior to Christmas, 1.4 percent on Christmas Eve, and 2.6 percent on Dec. 26 when they shop for next Christmas.
This means that nearly a third of the shoppers look for gifts from mid-December on. And with most of them being pressed for time, they will be more open than ever to special offers when they visit an e-commerce.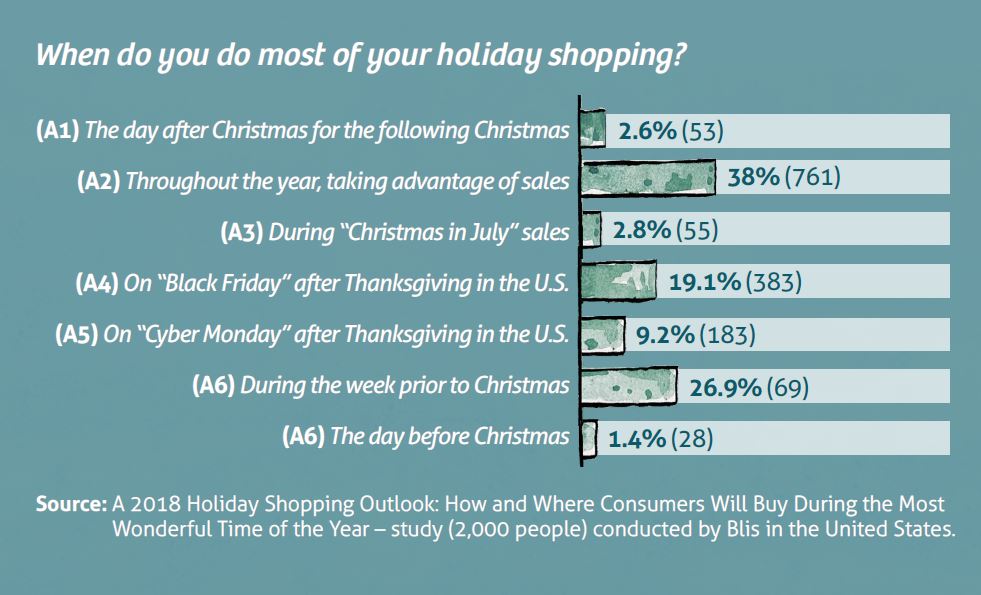 REMINDING SHOPPERS THAT TIME IS SHORT AND GREAT PRODUCTS GO FAST

"One of the best ways to take advantage of the Holiday Season is to create as much urgency as possible," said Matt Warren, CEO of Veeqo. "Clearly convey to anyone browsing your site that certain deals and products will be around for a short period of time only.
"Utilizing things like countdown timers and notifications of other people buying can be great," he said. "But you'll also want to show a countdown of stock for each item on its product page. If people think you're going to run out of stock soon, then they'll buy now to avoid missing out – especially in the run up to Christmas," Mr. Warren said. (3)
ADDRESSING SHOPPERS' CONCERN ABOUT MAKING THE RIGHT CHOICE
While they have but a few days to find gifts, shoppers are also aware that they don't have the luxury of making mistakes. So in order to reassure them, why not offer free returns, suggested Neil Patel, a marketing expert and co-founder of Neil Patel Digital.
"Trust signals…give customers the confidence to spend money," he said. "Customers will terminate up to 70% of online transactions when the trust isn't there. "They're buying gifts for other people during the holiday season. So, it's important to know that a purchase from an online store can be easily returned or exchanged without being penalized by restocking fees or service costs," Mr. Patel said (4)
ELIMINATING SHOPPERS' FEAR REGARDING SHIPPING DELAYS
Consumers are well aware of the fact that countries' postal services have a humongous volume of mail to handle, which may lead to delivery delays.
So they need reassurance that the gifts and other items bought for the holidays will arrive in time. Free shipping is always one of the biggest incentives for shoppers—they hate it when items' prices increase due to added costs such as shipping—by not only offering them free shipping but by making this next day or 2-day delivery.
If the cost might prove prohibitive for an e-commerce, next-day or 2-day free delivery could be offered for purchases of a certain amount with regular free delivery applying to smaller purchases.
WELCOMING EVERY SHOPPER AT YOUR SITE

This being the time of year when people look for gifts for colleagues at work, friends and family members, shoppers visiting your e-commerce may be far from the customers your product line usually attracts.
So if those your product line targets tend to "speak their own language," which you kept in mind when you selected the visual and writing style of your website, you may wish to add general information and/or gift suggestions to put the non-initiate shoppers at ease and help them make their selection. The more comfortable they feel at your site, the more they may decide to buy.
HELPING HOLIDAY SHOPPERS DO WHAT THEY MEAN TO DO WITHOUT
DELAY: BUY
The Blis study showed that nearly two thirds of those between 35 and 64 years old will wait till the last minute to shop for gifts.
"Last-minute gifters are looking for instruction, and a late smash-and-grab for gifts can be stressful," said Alex Wright, head of Insights at Blis. "If you can offer an easy decision, and put your product, brand or store in front of this audience, you've made their lives easier. They will view this as a win-win, and be grateful for your help." (5)
At this time of year, shoppers are eager to purchase, which is half the battle. All they need is a little push that can take the form of offering assistance through chatbot/live chat, providing gift wrap and so on.
So whatever strategy you decide to use, wishing you the best with your e-commerce this Holiday Season!!!
1 http://fortune.com/2018/11/24/black-friday-2018-online-sales/
2 http://blis.com/brands-lead-consumers-follow-a-look-at-how-mobile-behaviors-willimpact-
the-holiday-shopping-season/
3 https://www.cloudways.com/blog/ecommerce-tips/
4 https://neilpatel.com/blog/increase-ecommerce-conversions-during-the-holiday-season/
5 http://events.blis.com/holidayshoppingoutlook