Setting up Endless Aisle Endless Shelf Outlets For the Holidays' Shopping Season
For brick-and-mortar stores, endless aisle is an opportunity to present whole lines of products without overcrowding their displays so that customers can consider all their products, including those stored in warehouses, before they move on.
Here are some elements/features to look into when planning an endless-aisle outlet in order to draw the most benefits from the concept.
SETTING UP AN ENDLESS AISLE OUTLET
1. Location – Location – Location
Whether one's outlet will be a booth or a counter, its environment will directly effect its success. Here are a few issues to consider.
● If located within a store, will its design and location enable people to comfortably spend time checking products on the screen either by themselves or with the help of a sales person? And will its location interfere with the flow of shoppers in the store?
● While also looking into those issues, e-commerce retailers should ensure that their outlets will be in areas of high visibility and traffic and this, whether they are to be permanent, seasonal
or weekend ones.
Moreover, an e-commerce will not want to have a direct competitor's outlet too close by. On the other hand, being next to an outlet displaying a product complementing one's line—as in sports shoes and sports equipment—may benefit both retailers.
2. Signage
Whether or not one opts for a digital solution, the message "is the thing" in signage. "What we've found by working with customers since 1984 is that what your guests will remember most is what you display on your signage," said William Henderson, marketing director for Janus Displays. "Your frame choice will also be remembered, and you want to choose a frame that adds to – and doesn't detract from – the content.
"Keeping the intent of the message in mind, provide clear content that is equal parts engaging and meaningful," he said. (1)
The signage's style, frame, and location are then selected to be in harmony with the design of the outlet or screen display of which it is part.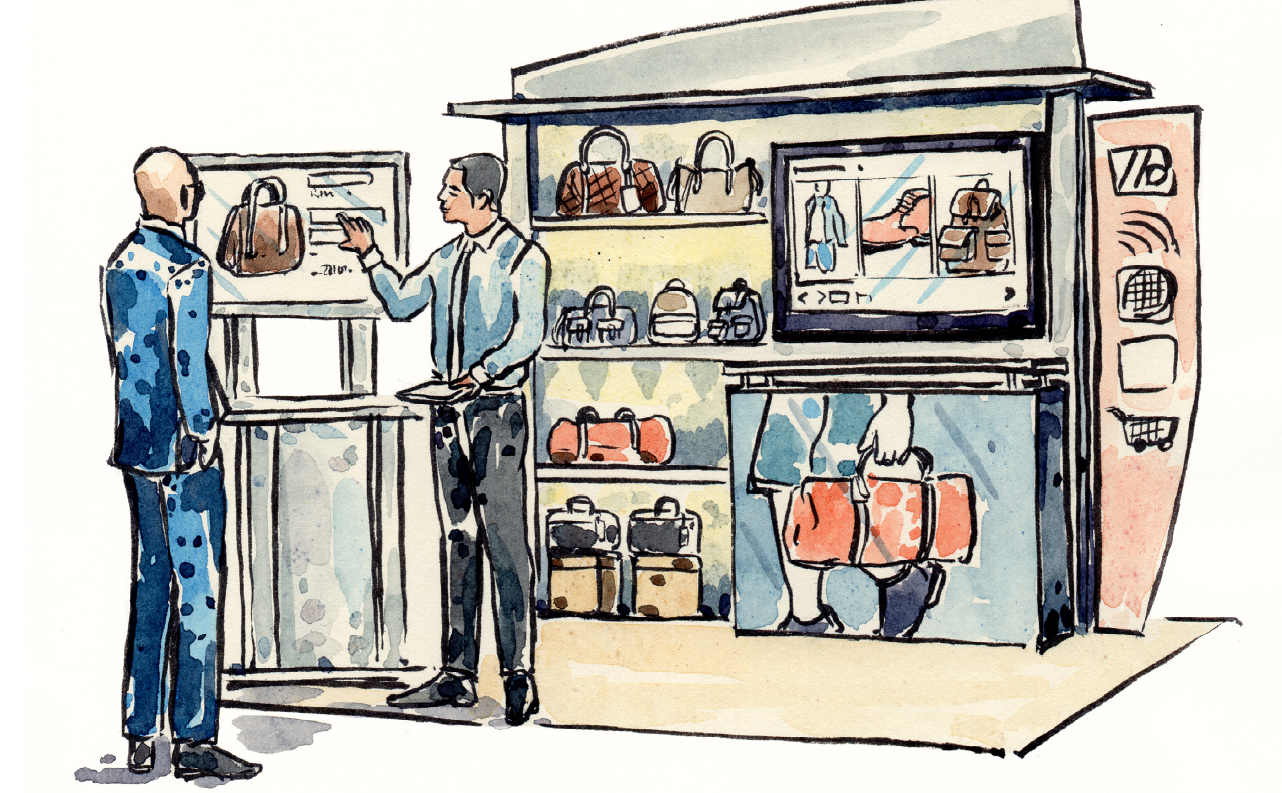 3. Outlet design
Interior designer Barbara Wright recommends keeping outlets' displays simple. "Keep them uncluttered. Leave some space around them. The most common mistake is trying to show too much at the same time," she said. (2)
This principle applies both to physical product displays and screens big or small. Then whether the main feature of the outlet is a counter, shelf or booth, components should follow the rule of uneven features. "An odd number of elements is always more attractive to the eye than an even number," Ms. Wright said. "That's because an asymmetrical arrangement is slightly off balance and keeps the eye moving around to look at each frame. That provides a built-in visual dynamic." A display with an uneven number of items may include a main computer screen with product displays and/or smaller screens—small computers, tablets or larger-screen phones.
The texture and colors of the background against which screens and product displays will appear should also be carefully chosen. These design elements will play a role in creating the feel and look that will capture people's attention and make them stop at the outlet.
And then, there should be a focal point in the display, said Matthew Hudson, a retail expert and head of the firm @hudsonhead. "Create a hotspot–or focal point. Why? Because hotspots can increase sales by 229 percent.
"Examine your display from the customer's point of view: the top, the floor, both sides.
Often the focal point is positioned too high for the customer to see." (3) And that focal point should always be the product, Mr. Hudson writes. For example, the model should not overshadow the clothes in a photo or the props draw attention away from the product in a display.
4. Staffing
Endless-aisle outlets truly are where brick-and-mortar and e-commerce retail merge: sales outlets set up at physical locations but whose main features are computers—whether regular ones or touch-screen monitors—with which one can access one's full product line.
Brick-and-mortar and e-commerce retailers must then decide whether to assign sales staff—whether their regular or seasonal employees—to oversee these hybrid outlets.
As Greg Randall of Comma Consulting points out, a sales person assisting a shopper may
make all the difference as to whether that shopper will end up buying. When a salesperson
has the product knowledge and tools such as tablets or mobile/cell phones to promptly respond to a shopper's questions in a straightforward manner, the likelihood that this will lead to sales is greatly increased, he said.
"The consumer feels this experience is personalised because it is relevant, it's presented
on his/her terms and the information assists decision-making," Mr. Randall said. "For
these reasons, across various sources of research, physical retail conversion rates range
from 20% to 40%." (4)
To achieve this result, it is recommended that, in addition to the usual sales and customer-service training, sales people assigned to endless-aisle outlets are trained so they can easily and quickly find product information and availability on computers, tablets or mobile/cell phones.
After hours, a chatbot or live chat may replace staff if an endless aisle outlet continues
to be accessible to shoppers. A brick-and-mortar or online retailer who decides not to
staff an outlet may also opt for chatbot and live chat to serve shoppers.
5. Inventory
Brick-and-mortar and e-commerce retailers with endless-aisle outlets must be sure that
their products listed as being in stock or in their warehouses actually are available. It is
critical to have one's inventory constantly updated. One would not want to sell a product and tell the customer that it will be delivered within a few days only to contact him or her later to say that, unfortunately, it is no longer available, which would disappoint the customer and may damage the retailer's reputation.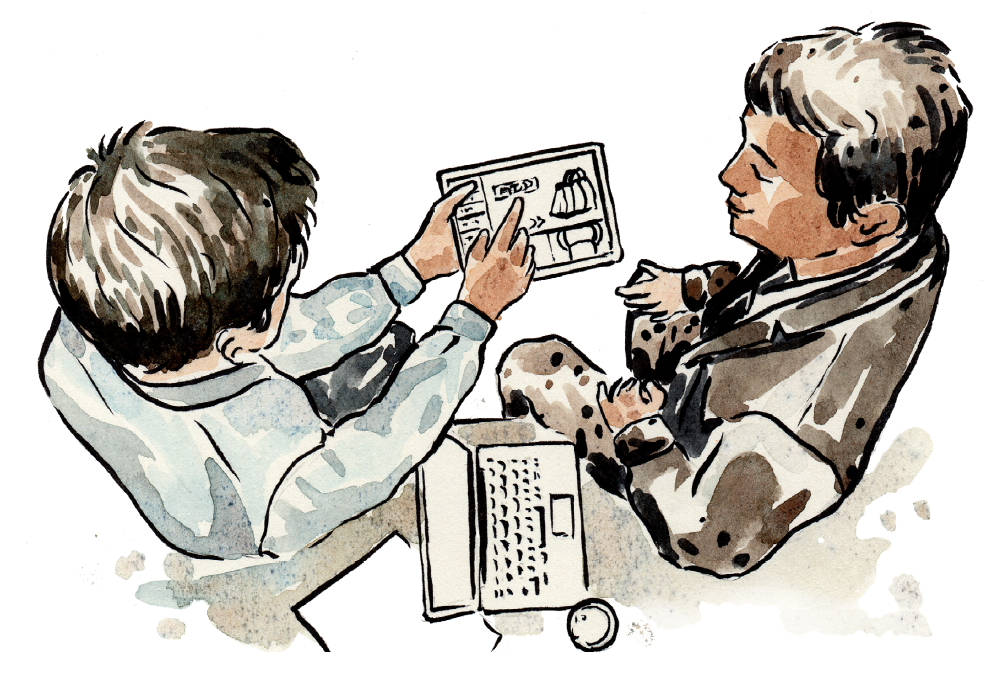 6. Internet access
Since the main feature of endless-aisle outlets is computers or touch-screen monitors along with tablets and mobile/cell phones, reliable internet service is an important consideration: One must have internet access in order to check inventory and remain connected to Shopify or Magento if one is using those platforms. "This is one of the main concerns retailers voiced when we discussed their needs," said David Ker, CEO of ZINation that recently launched Smart Endless Aisle for e-commerce and brick-and-mortar stores. "We made a point of addressing internet interruption in our solution," he said.
7. Shipping
Finally, if a retailer promises delivery within one or two days, buyers must receive their purchases within the period indicated. Otherwise, that retailer's reputation may be affected.
As Vishakha Sen—content writer for Omnichannel Commerce—writes, the endless-aisle technology has truly blurred the line between brick-and-mortar and e-commerce retailers, creating opportunities in both fields. "The game is no longer eCommerce vs. brick and mortar, it is store vs. store and depends completely on which one utilizes its unique force the best. So cousin, business is a-boomin, and may the best man win," Ms. Sen said. (5)
1. https://www.digitalsignagetoday.com/blogs/effective-digital-signage-101/
2. http://barbarawrightdesign.com/recognition/featured-publications/the-five-basics-of-visual-merchandising
3. https://www.thebalancesmb.com/the-5-most-important-elements-of-visual-merchandising-2890501      https://econsultancy.com/blog/68839-the-10-principles-for-creating-amazing-online-retail-experiences
4. https://econsultancy.com/blog/68839-the-10-principles-for-creating-amazing-online-retail-experiences
5.https://capillarytech.com/blog/author/vishakhasen/utm_source=&utm_medium=&utm_campaign=&Lead_Source=&searchkeyword=&variant=&adposition=&device=&matchtype=matchType