For brick-and-mortar businesses whose products are all about tasting or touching, setting up websites present the challenge of having to capture the attention of customers who will not have the chance to do so.
This is why Shannon Burke had not paid her website much attention at first. "When I started, my website was my business card…just my name, my address, some of the wineries I was working with."
Her firm Burke Wine Brokerage LLC—https://www.burkewine.com/—sells California's Central Coast wines to winery shops and restaurants in that state. "In my industry on the wholesale side, they are not used to putting orders online….I built [the site] thinking this isn't going to be something people are going to be gravitating to right away," she said. Still about two years ago, Ms. Burke redesigned her site to showcase the winemakers she
represents, putting in their profiles and photos of their wineries. "They are such cool people that I wanted to highlight them,' she said.
Since then, the site has turned out surprisingly useful: Restaurants and wine shops now have full information on each wine they purchase plus stories to tell and photos to show customers, Ms. Burke said. "It's all at their fingertips.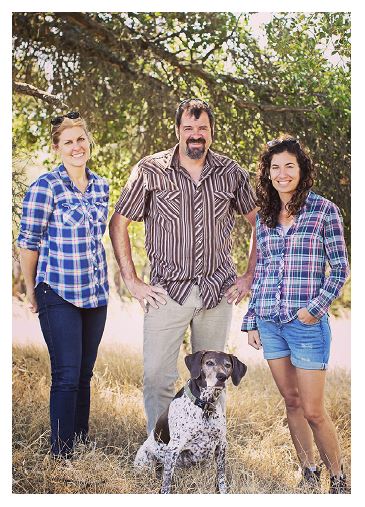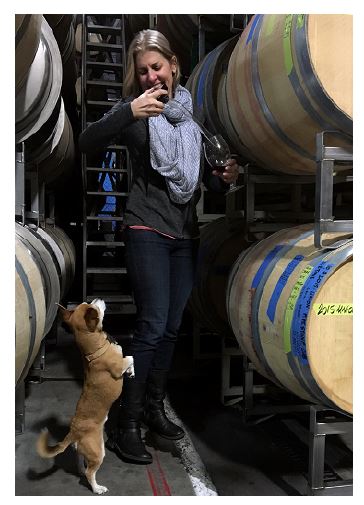 ©Photos: Christine Baker, Lotus Pod Designs               Russell From, owner/winemaker of Herman Story Wines             Shannon Burke with her dog Charlie  

A LIFELONG PASSION FOR WINE AND WINERIES

Ms. Burke has worked in the wine business nearly all of her adult life. Born in Ventura north of Los Angeles, she studied food science at California Polytechnic State University at San Luis Obispo—the institution's wine and viticulture program was not yet offered—and decided to learn the wine business from the ground up by working at a California's winery, Pichetti Winery in Cupertino, after graduation.
By 2008, Ms. Burke was ready to start her own business. "I just wanted to do something on my own," she said. "To be honest…I hoped I could make it a year just to try this out."
The world was going through a severe financial crisis at the time, and friends warned her that this might not be the best time to launch a wholesale wine business. "I found that people still were buying wine: They just were spending less money that they normally were for wine," she said. "So I built my portfolio on…reasonably-priced good wine: That was my focus.
"I wanted wine that's really great and at a great price. So I built my portfolio with a lot of new wineries that were just coming to the market and were great pricing. A lot of it was [California's] Central Coast, a lot of it the younger generation of winemakers that were having more competitive pricing."
It soon was a success. "Now I have a team of about 12 people who help me cover Northern and Southern California."
MANAGING GROWTH
Burke Wine Brokerage LLC mainly sells wine from California's Central Coast, a wine country that spreads 250 miles (402 kilometers) along the state's coastline, going from Ventura north of Los Angeles to Santa Clara south of San Francisco.
At one point, Ms. Burke was representing 22 wineries from that region. But in 2016, she decided to reduce this to 15. "I wanted to put the time into working with these people, building their brand and growing with them," she said. This proved the right decision. "When I cut back, my sales actually increased."
The wineries she represents produce red, white, rosé as well as sparkling wines. Four years ago, one winery started packaging wine in both bottles and cans, using the same quality of wine in both cases, Ms. Burke said. "You have people who are biking and camping and hiking, you know, going places where you can't bring glass. But they still want their glass of wine."
Is it especially popular among the millennials? "For sure, although my boyfriend's father who is in his 70s loves wine in can," Ms. Burke said.
 Shannon Burke
 California
        What advice would she have for fellow e-commerce owners?
"I would say don't grow too fast, don't get over
whelmed," she said. One can easily lose focus at first
Ms. Burke said. And then, she added, "don't compete
within yourself. Instead, set a manageable goal and
stay on course."