dOSA Natural Skin Care Products
An e-commerce draws inspiration from
nature and family
The line dOSA Natural Skin Care Products—featured at https://
dosanaturals.com—came out of the realization that numerous people
who mean to live in a healthy way tend to be unaware of one
factor.

"People forget that the largest organ in a body is the skin," said Charita
Lucas, the company's founder. "One's skin absorbs anything that
is put on it externally.

"Even people who tend to be health conscious…are often missing
that third piece of the pie: your body, your skin," she said. "So you
have your fitness routine, you're working out, you're eating healthy.
But then, you go and you're putting crap on your skin: You're missing
that third critical piece."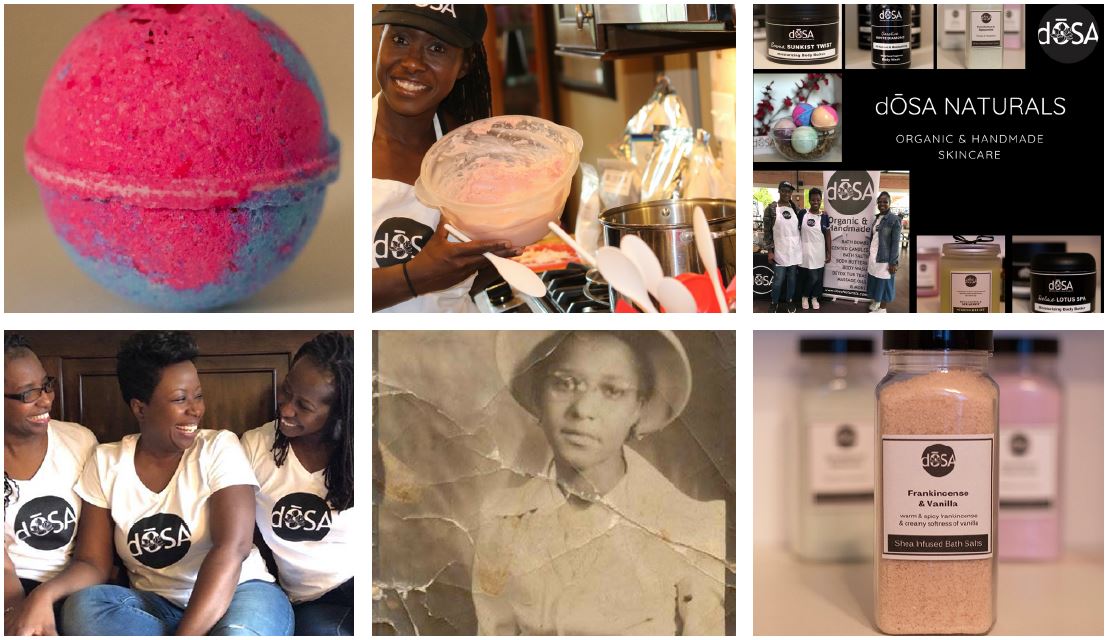 This is why, three years ago, Ms. Lucas decided to launch a line of skin products strictly
made of organic ingredients.Which turned out to be easier said than done.
"The very first body butter that we created…it was horrible," she said. "There was a lot of
trials and errors. Sometimes you'd get the consistency right but then you didn't get the
fragrance right. Or you'd get the fragrance but not the consistency….It would have been a
lot easier if we had started adding some synthetic ingredients," Ms. Lucas said. "But we
chose not to do that. And that's what made it that much more difficult."
Today, dOSA Natural Skin Care Products includes body wash, moisturizing body butters,
bath salts and bombs as well as massage oils and scented candles.
The brand's customers tend to be 35-to-50 year-old women who are into fitness, mothers
who are health conscious, Ms. Lucas said. "Customers who came as a surprise are women
who have gone through breast cancer," she said. Due to chemotherapy, cancer patients end
up with dry skin, a condition that commonly-sold products cannot remedy while dOSA's
products can. "We have a lot of cancer survivors among our customers: people who have
had traumatic experiences in their lives and are looking to turn their lives around and
change how they live."
From the beginning, the e-commerce dOSA has been a family affair, starting with its name.
"My great, great grandmother Dosa McGee was born in Mississippi," Ms. Lucas said. "My
living grandmother told me that a lot of folks said…that Dosa had this one saying: 'It don't
make a bit of sense to use a lot when a little would do.' And when I heard that, it just kind
of stuck. I thought wow, ok, I really like…the concept of simplicity.
"So that's what Dosa is about: taking just a small amount of natural ingredients to put
on your skin so that you can be nice and healthy on the outside as well as the inside."
Developing the line was a family effort, Ms. Lucas said. Her husband Ian Lucas, whose
undergraduate degree had been in science—he is an attorney—and her son Michael, a
molecular biology major at university, helped develop the products' formula.
And today, Ms. Lucas' sisters Charlotte Purnell and Audrella Morales respectively handle
customer service and social media for the e-commerce—which is great help since Ms. Lucas
also occupies a directorial position at a global enterprise for which she has worked for
nearly three decades in addition to being a fitness instructor.
At this point, the line is sold online and in two specialty stores, the goal being to feature in
more specialty stores, Ms. Lucas said.
Based in Valparaiso in the U.S. state of Indiana, dOSA is also a member of the Valparaiso
Chamber of Commerce. "As a member of the chamber, we get access to newsletters, e-mails.
We get a lot of free advertising. It takes a village [to build a business]: It does." Joining one's
chamber of commerce is an advice Ms. Lucas would give anyone planning to launch an
e-commerce. "Local chambers…support local businesses," she said. "They have a much
larger audience than you have."
Asked what else she would tell people who think of launching an e-commerce, Ms. Lucas
said, "one piece of advice that my husband gave me…and this would especially apply to
e-commerce dreamers…is that you never regret the things that you do but you always regret
the things you do not do.
"We spend a lot of our lifetime, you know, wondering and guessing and not moving
forward. So if you want to do it, just do it," Ms. Lucas said.