Business support for social or cultural organizations is a well-established tradition that has taken numerous forms ranging from a small-town store paying for the local school's sports equipment to a major corporation funding a symphony orchestra.
However, according to research results released on October 2, today's customers expect much more than the customary support from businesses: They actually are turning to them to address major social and political issues.

"The world is upside down—people's fears are overwhelming their hopes," reads the summary of "Brands Take a Stand," Edelman's fourth annual research report. "This is linked to a sense of inequality and worry about job prospects in view of growing globalization and automation.

"Government is seen as…unable to make a difference on the issues that matter. Consumers are turning to brands as their champions; this is the birth of Brand Democracy. The feeling is: It's easier to get a brand to act on the issues I care about than to vote for another ineffectual politician," the report summary says. (1)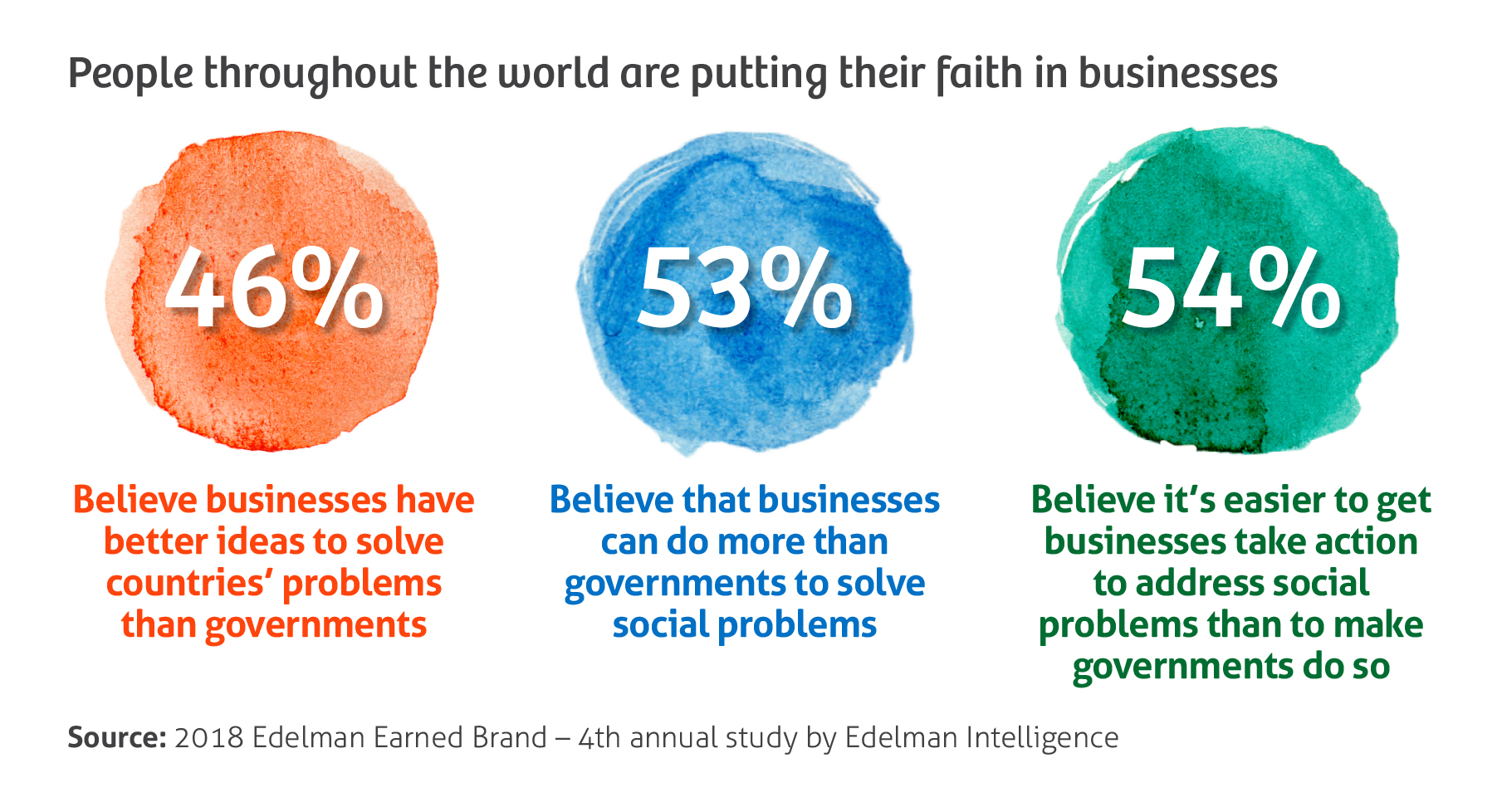 PEOPLE USE THEIR SHOPPING POWER TO EXPRESS THEIR VALUES

The 2018 Edelman Earned Brand study shows that nearly two-thirds of consumers through out the world now buy on belief and will choose, switch, avoid or boycott a brand based on where it stands on the issues they care about.
Conducted by this U.S.-based global communication marketing firm, the study consisted of online and mobile surveys that reached a total of 40,000 people in eight countries: Brazil, China, France, Germany, India, Japan, the United Kingdom and the United States.
"In 2018, 64 percent of consumers now self-identify as Belief-Driven Buyers—a staggering 13-point increase from 2017," the summary reads. "Belief-Driven Buyers are now the majority in every market surveyed, across all age groups and all income levels."
The "purpose" study conducted online last March in the United States by the Porter Novelli public relations agency and in which 502 men and 504 women took part came to similar conclusions.
According to the study report, "78% of Americans believe companies must do more than just make money; they must positively impact society as well. 77% feel a stronger emotional connection to Purpose-driven companies over traditional companies [and] 66% would switch
from a product they typically buy, to a new product from a Purpose-driven company." (2)
And this goes much further than a business adopting a random cause. With cases of prefabricated content on social media having been so much in the news over the last few years, consumers are on the lookout for signs of in-authenticity: They may discern whether or not an e-commerce genuinely believes in a cause or organization it claims to support.
Which is why, as the report says, "[P]urpose and business practices must be aligned. Americans believe that a company's operations should be in alignment with its unique Purpose, with corporate social responsibility… Companies must "walk-the-talk" to demonstrate their
Purpose in action."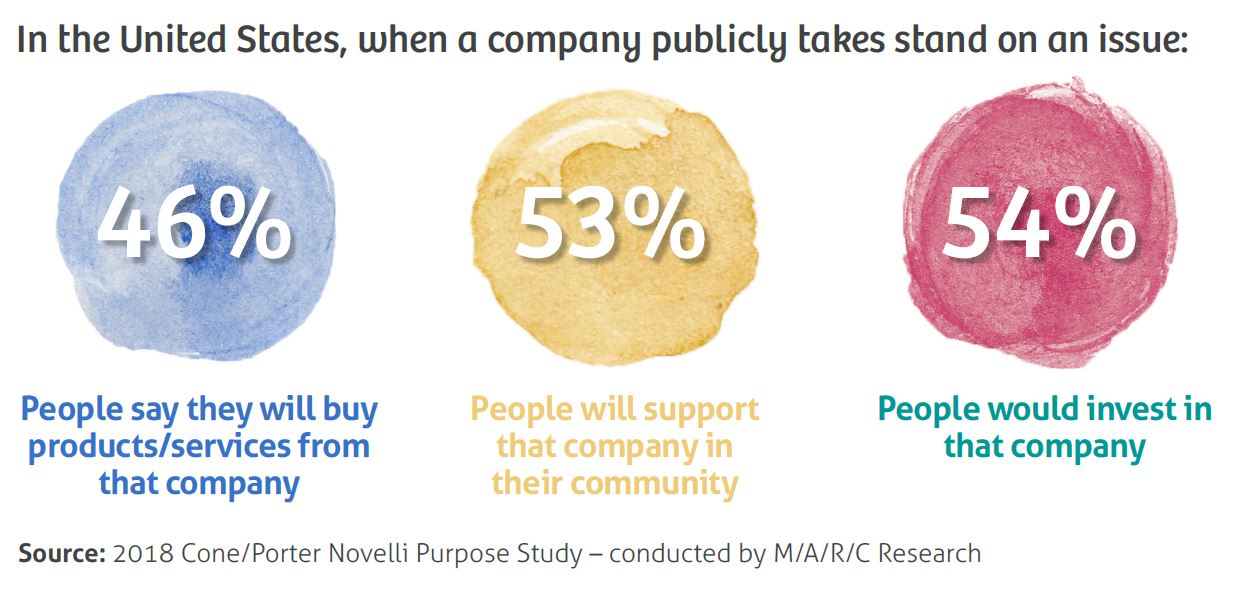 SELECTING THE RIGHT CAUSE OR CHARITY FOR ONE'S BUSINESS
The form of involvement a company chooses might be directly linked to one's product such as Elusive Society at https://elusivesociety.com that sells a line of men's headwear with a few models for women.
This U.S. company is based in Urbana, Illinois, where winters are especially cold. So for each headwear sold, the e-commerce owner J.W. Martin donates one headwear to a school or organization dealing with disadvantaged people, he said. At times, stores to which he sells wholesale ask him to make the donation to their own neighborhood organizations, which Mr. Martin is happy to do, he said.
Some e-commerce will opt to support a field or organization they personally care about even though it is unrelated to their product lines. For instance, Erin Gray Morton launched Erin Gray Design at https://eringraydesign.com when her mother and step mother-in-law were diagnosed with cancer virtually at the same time.
"I had already been toying with making jewelry," Ms. Morton said. So she decided to start a company to sell her bracelets so she could give money to cancer research. "I was getting such positive feedback that I decided to start making and designing other pieces. And it organically grew," she said.
Both Mr. Martin and Ms. Gray mention at their sites the donations they make.
MEETING BOTH THE PUBLIC AND BUSINESSES' EXPECTATIONS
Today's consumers seem to put their faith and hopes in businesses to address the issues that affect their world, which is no small burden to put on business people's shoulders…
In practical terms, this can translate into businesses playing a role—big or small—in areas they care about whether it is supporting a local music or arts event, an after-school program to help working single parents, or a clean-air initiative.
The gesture has to be genuine as today's online consumers are on the lookout for deceit. But if done right, both an e-commerce's reputation and sales may benefit
1 https://www.edelman.com/earned-brand
2 http://www.conecomm.com/research-blog/2018-purpose-study