Time and again, people seek product recommendations close to home
This may be the age of the internet in which toddlers watch animation on tablets, and  students sitting next to each other will "talk" via social media or text messages on mobile/cell phones rather than actually speak to each other.
And yet, recent studies have reconfirmed what had been known for some time in e-commerce: People still trust the opinion of friends and family above all else when they look for information on products or services.
A survey of more than 2,000 people done by Stakla a year ago in the United States, the United Kingdom and Australia showed that 70 percent of millennials will go by the reviews and social media posts of friends and family members.  As a whole, 61 percent of consumers will make decisions based on friends' reviews, and 59 percent on family members' reviews, the report said. (1)
Other research findings released a few weeks ago produced similar results. Conducted in the United States, the study summarized in the report "Chatters Matters" indicated that "83% of Americans say that a word-of-mouth recommendation from a friend or family member is what will make them more likely to select a product or service." (2)
Done by Convince & Convert Consulting, the research also showed that women rely on word-of-mouth 22 percent more than men and that 77 percent of millennials make recommendations at least once a month compared to 55 percent for all Americans.
"Word of mouth is the original marketing. It was, for a LOOOOONG time, all we had," said Jay Baer, president of that consulting firm, in a blog on the research and his book "Talk Triggers: The Complete Guide to Creating Customers with Word of Mouth" released on October 2 and co-written with Daniel Lemin of Convince & Convert.
"Businesses' ability to unilaterally dictate consumer attitudes and subsequent purchases and loyalties is fraying like the hem of a cheap dress,"
Mr. Baer said. "Regardless of​ the size, shape, category, and history of your business, the reality is that half of your customers do not believe you….We're in an era where trust matters more than truth, and the truth is your customers simply don't trust you as much as they trust each other." (3)
This means that, today, it is more crucial than ever to turn word-of-mouth into an​​ asset, he added.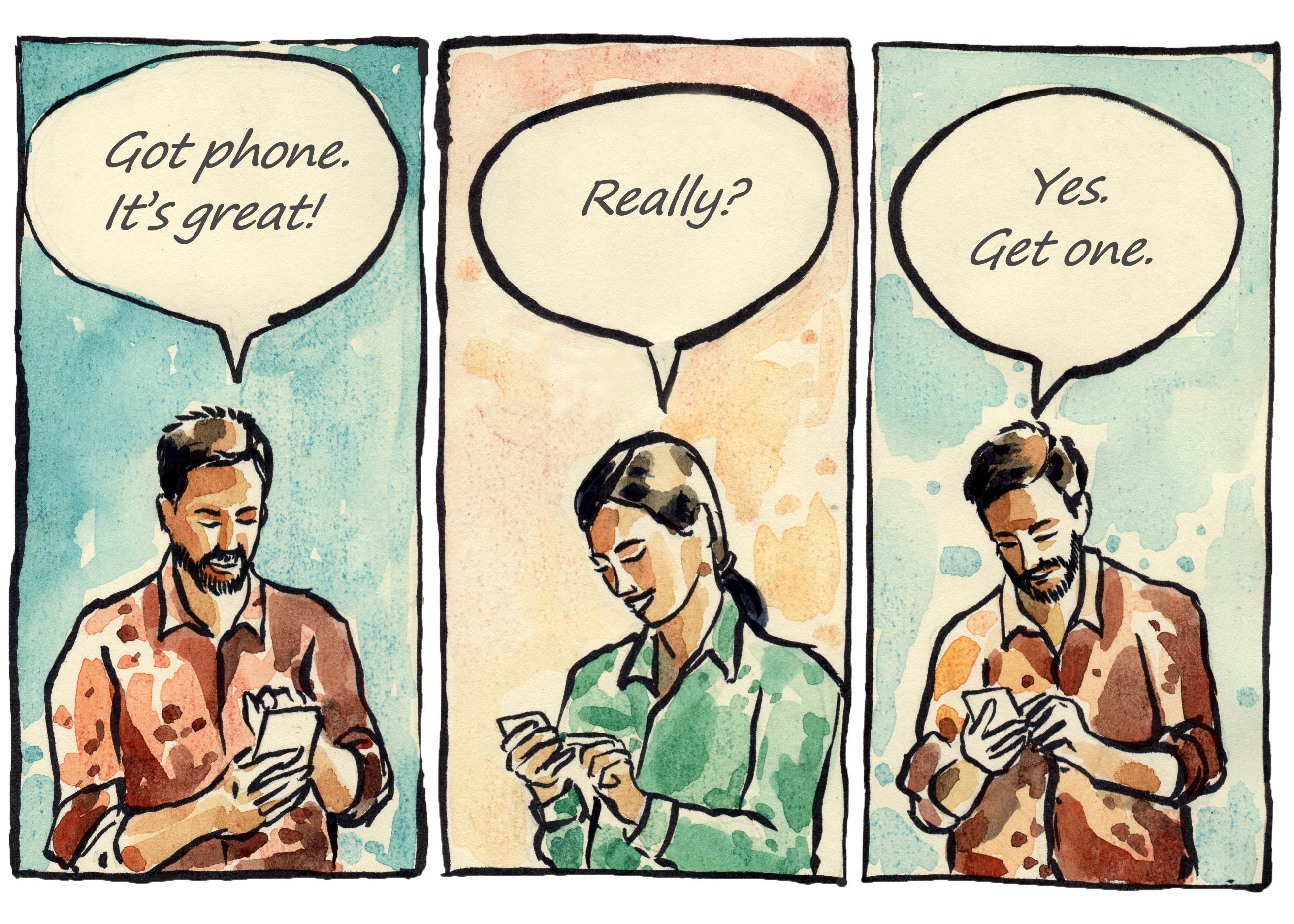 GETTING THE ESSENTIALS IN PLACE
There is no secret formula: Triggering word of mouth must start with the basics.
"Trying to get people to refer their friends and family to your business is almost impossible if they had a poor experience. Even with an average one it's difficult," said Matt Warren, CEO of Veeqo, an inventory-management software firm. "People refer others because they want to share something they love. Not just because they might get a discount voucher for doing it.
"It's impossible to create a positive experience if what you sell just isn't up to scratch," he said. "So being able to source and sell quality products is crucial."
All aspects of a shopper's visit must be flawless: from his/her first look at an e-commerce site with the various tools greeting the shopper—catalog with striking photos, pop-up with appealing offers, chatbot/live chat to answer questions—to the purchasing process, and product delivery. "And with 65% of consumers having cut ties with a brand over just a single poor encounter, it's more important than ever to create that amazing experience,"
Mr. Warren added. (4)
WORD-OF-MOUTH TRIGGERS
What else can one do to make people talk about one's products? Receiving an unexpected gift such as a product sample or an item complementing the item purchased would probably do it, the magazine Entrepreneur Asia Pacific mentions in its Small Business Encyclopedia. This gift must come as a surprise. "Don't promise it in your ads," the magazine reads. "Why would a customer repeat what you say about yourself in your ads? You must allow your customers to deliver the good news. Don't rob your ambassadors of their moment in the sun."
As to the cost of such a marketing campaign, Entrepreneur says, "[t]he greatest danger isn't in overspending but in under spending. Under spending on a word-of-mouth trigger is like buying a ticket that only takes you halfway to Europe." (5)
Making people feel special when they purchase or simply visit one's site is definitely a way to trigger word-of-mouth, said Jonah Berger, a marketing professor at Wharton School of the University of Pennsylvania.
"How does it make people look to talk about a product or idea…Most people would rather look smart than dumb, rich than poor, and cool than geeky," he said. "[W]hat we talk about influences how others see us. It's social currency. Knowing about cool things…makes people
seem sharp and in the know.
"So to get people talking we need to craft messages that help them achieve these desired impressions. We need to find our inner remarkability and make people feel like insiders. We need to leverage game mechanics to give people ways to achieve and provide visible
symbols of status that they can show to others," he said in his book "Contagious: Why Things Catch On." (6)"
One way to prompt people's interest is science as they tend to enjoy and trust scientific information, Mr. Berger said. The data should be accessible so they can easily grasp and repeat it. And since, as Mr. Berger noted, "accessible thoughts and ideas lead to action," this will make people talk about it and the e-commerce site that posted it.
A REFERRAL PROGRAM: TO DO OR NOT TO DO

As marketing and content specialist Visakan Veerasamy said "there's no single magic measure to tell you in advance whether a referral program would be successful for your store. "Referral programs amplify the existing word of mouth that your store already gets from your customers and fans; they cannot create brand new customers or word of mouth out of thin air."
Only an e-commerce getting at least 100 to 200 transactions per month should consider such a program, Mr. Veerasamy said. "A customer base of this size accounts for the fact that not every customer will be willing to make a referral, and even those that are will often forget, or fail to recognize opportunities to refer your products." (7)
AND THEN: WHO TO TARGET
Whether or not they fit the profile of an e-commerce's customer base, shoppers may approach a site with varying attitudes, said Jay Baer. The "uniqueness seekers" of all ages become loyal customers to brands offering something distinctive, he said. The "experience advisors" who tend to be young women look for something different to talk about and make them feel like experts. "Fundamental fans" look for quality and good service; often
in their 40s or older, they won't necessarily talk about a product but may do so if they feel its quality makes it special. Finally, there are the "skeptics," usually men, who treat claims of uniqueness as hype and love to profess their disbelief, Mr. Baer said.
"Trying to impress all four of these customer categories at once might seem like an impossible task," he said. "Well, you're right….Those challenges don't mean you should throw up your hands and call it a day, though.
"Never forget that truly different and truly remarkable brands will always cause a stir — even if they don't achieve universal adoration," Mr. Baer added. (8)
1 The study was conducted by Stakla with support from Market Cube
for research sample.
https://stackla.com/resources/reports/the-consumer-content-report-influence-in-the-digital-
age/
2 The study conducted by Convince & Convert Consulting and the research
firm Audience Audit.
https://www.convinceandconvert.com/word-of-mouth/word-of-mouth-marketing-research/
3 www.convinceandconvert.com/word-of-mouth/why-i-spent-18-months-ignoring-myfamily-
and-writing-this-book/
4 https://www.bigcommerce.com/blog/word-of-mouth-marketing/
5 https://www.entrepreneur.com/encyclopedia/word-of-mouth-advertising
6 https://www.goodreads.com/author/quotes/1170746.Jonah_Berger
7 https://www.shopify.com/blog/referral-marketing-program
8 https://www.convinceandconvert.com/word-of-mouth/customers-talk-about-business/?
utm_source=on&utm_medium=email&utm_campaign=onemail