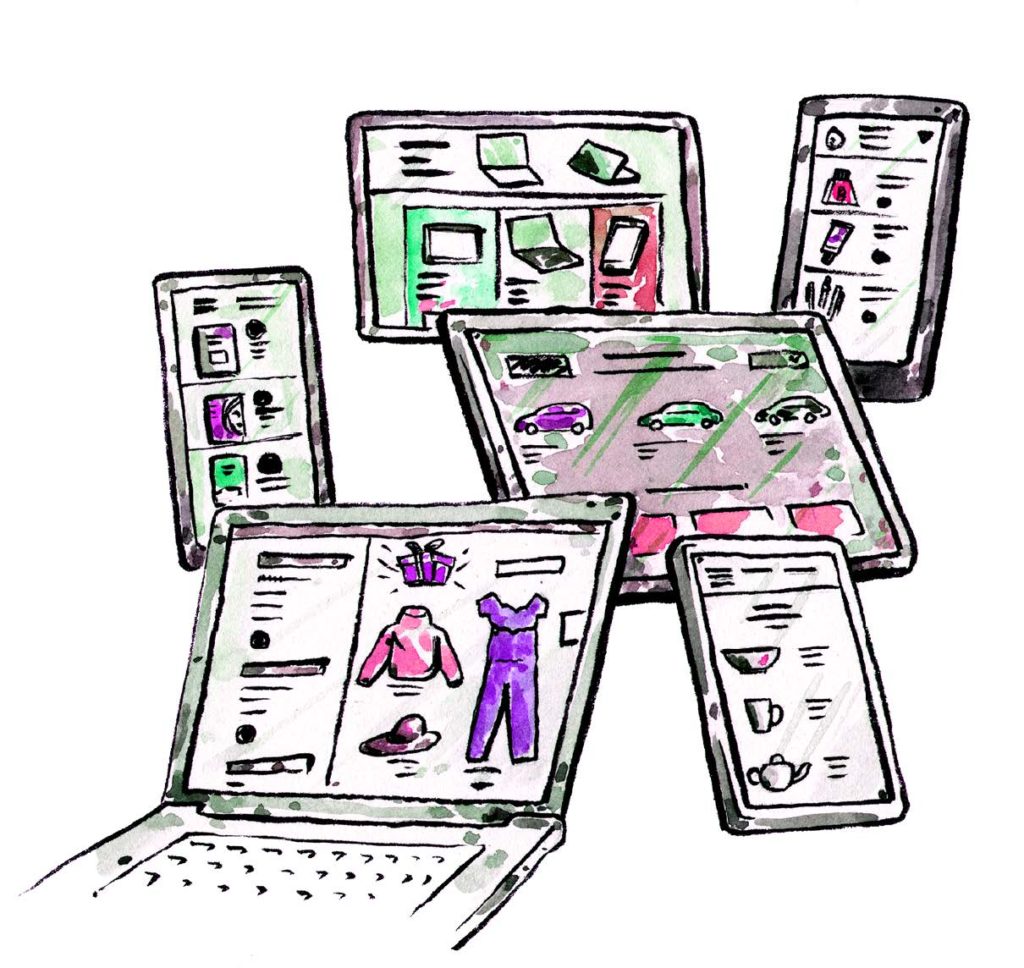 Personalization
checklist
Some of the issues
and elements to
keep in mind
1. Build the profile of your typical customer:
age, sex, main interests, etc. This typical
buyer should be the focus of your strategy.
2. Website design. Make sure it is appealing and includes all the required features. You website
must be easy to access on the screens of mobile/cell phones as well as tablets and computers.
3. Check your website load time. Since July 1, Google is using speed as a determining factor
for search-ranking process: E-commerce sites whose mobile/cell phone versions are slow to
load now appear lower in searches.
4. With your typical buyer in mind, review the text at your site to ensure it is well written. The
style needs to appeal to your typical buyer: elegant or snappy sentences, serious or witty,
detailed or brief.
5. Make sure that your product descriptions are clear. Point out the features most appealing
to your market. The full technical information can be listed in a product-description section.
6. Product photos must be outstanding to show your line in the best possible light. Some photos
should feature products in their context: people using sports equipment, toys in a playroom,
a picnic basket in a park.
7. Features including pop-ups to make offers such as discounts or free shipping.
8. A chatbot programmed to answer basic questions, inviting shoppers to leave contact information
if their inquiry requires customer service. One may switch to live chat during office hours.
9. One or several catalogs for retail as well as wholesale.
10. Photos and short product descriptions must be clickable.
Personalization in the age of privacy laws
For a great many people who browse e-commerce sites, life has included getting
ads linked to products in which they may have looked into. As Steve Dennis,
a Forbes contributor and strategic advisor with SageBerry Consulting, wrote
in an article entitled "Compelling, Creepy, Annoying or Just Bad? Retail's
Personalization Opportunity," [a] certain airline…regularly sent my teenage
daughters offers 'specially selected' for them which included deals for mortgage
financing. We were nicely generous with their allowances, but not enough for
any real estate speculation." (1)
Gathering data on shoppers has been meant to provide online businesses with
information so they can target the right customers, and then welcome and offer
them products in which they are interested, attending to them as if they were
there in person.
But then the cost of obtaining people's personal information to do just that has
grown to unusual proportions. Last year, U.S. companies alone spent $10.05
billion on third-party audience data—consumer information bought from "data
aggregator" firms—according to a research of the Interactive Advertising Bureau
Data Center of Excellence and the Data and Marketing Association. "The State
of Data 2017" (2) released in December also mentions that companies spent
another $10.13 billion on third-party solutions to support that data.
And yet, a worldwide survey of marketing professionals conducted early this
year revealed that more than 60 percent of the marketing professionals at
companies worth up to $1 billion and 83 percent of those at $1 billion-plus
companies feel that they are not doing personalization right. (3)
Rethinking data collection in the age of GDPR
In March, the extent to which people's information can be used without their consent
turned into a public debate when publications—The New York Times, and the U.K's
The Guardian and The Observer—wrote that the personal data of more than 50 million
people gathered in 2014 through Facebook by a U.K. research firm was passed on to
the political firm Cambridge Analytica working on Donald Trump's political campaign.
This was brought up as the General Data Protection Regulation (GDPR) was about to
come into effect in European Union (EU) countries. In place since May 25, the GDPR is
meant to give back to people in the EU ownership and control over their personal data.
This legislation is being implemented at a time when people have become truly concerned
about how their personal data is used by businesses as a survey by the U.S.
computer-and-network security company RSA revealed earlier this year.
In December and January, RSA surveyed over 7,500 people in the United States, the
United Kingdom, France, Germany and Italy to find out what concerned them the most
when their personal data is collected with or without their consent. Results showed
that their main fears were losing control of their financial and banking information (80
percent of the respondents), security information such as passwords (76 percent), and
identity papers including driver licenses and passports (72 percent). (4)
More than half of the 18-24 year-old millennials said they were afraid their personal
information might be used for blackmail. Over half of the Germans were worried about
protecting their genetic data, and nearly half of the Americans about having their location
information remain private. French respondents were only slightly less concerned than
others—59 percent versus 69 percent—as to protecting their medical data. And people
the most anxious about protecting their security information were those from the United
Kingdom (84 percent) and Italy (81 percent).
Finally 62 percent of those interviewed said they would blame a company that lost their
information, and more than half of them said they would be less likely to deal with a company
that had mishandled their data.
Open dialogue and build trust with customers
"GDPR is a true wakeup call for brands when it comes to how they collect and use data,"
writes Jonathan Lacoste, president of the data platform company Jebbit. "As it becomes
clear which companies prepared and which procrastinated their compliance measures,
those who are not taking data privacy seriously will not only be at risk of penalties but
of disenchanting their customers, hurting the brand's reputation." (5)
Businesses asking shoppers and customers to share information in order to better meet
their needs may end up with direct and therefore better-quality data. Plus this may help
businesses strengthen links with potential and current customers.
Finally, in view of recent developments, e-commerce firms should put a clear privacy policy
statement at their sites regarding the data they collect and how it is used. People should have
the option not to have their private information used for marketing purposes or resold. One
can find samples and advice as to the wording of such a privacy statement on the internet.
1 https://www.forbes.com/sites/stevendennis/2017/12/11/compelling-creepy-annoying-
or-just-bad-retails-personalization-opportunity/#75b1fa6a89f5
2 https://www.evergage.com/resources/ebooks/trends-in-personalization-survey-report/
3 https://www.iab.com/news/u-s-firms-to-spend-over-10-billion-on-third-party-audiencedata-
in-2017-even-more-on-third-party-solutions-to-use-that-data/
4 https://www.rsa.com/content/dam/en/e-book/rsa-data-privacy-report.pdf
5 https://martechseries.com/mts-insights/guest-authors/gdpr-deadline-will-open-door-data-
transparency/